Lipo-Light LED Non-Invasive Body Contouring System
Lipo-Light of Rock Hill (803) 328-2440
What is it?
The very first 100% LED Non-Invasive Body Contouring System. 16 pads – each pad contains 30 diodes that emit a warm red light at a wavelength of 635 nanometers. Pads are placed directly on the skin for 20 minutes. There is no pain, no bruising, no swelling, no burning. There are zero side effects with Immediate Results.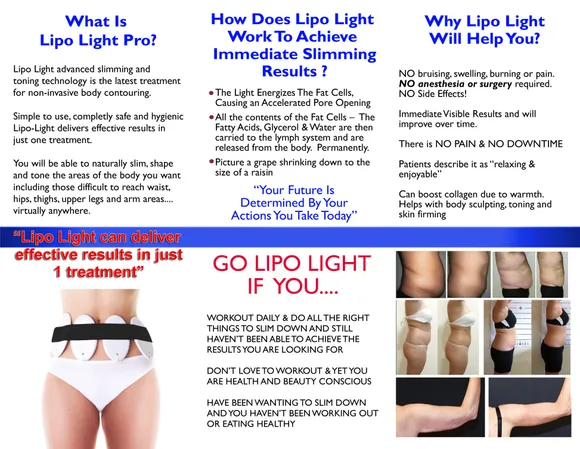 How does it work?
High intensity light energy penetrates the skin and is absorbed by the fat cell. This stimulation opens the cells wall allowing the fat to escape. The fat cell will then start breaking down the contents allowing the excess fat to be removed. Our Lipo-Light comes from the UK and they have had this cutting-edge technology for quite some time and we are just now getting it here in the US! Do you know that light is measured in wavelength & frequency? Lipo-Light has developed a wavelength that ONLY affects fat cells. Our 16 paddle machine is the MOST powerful in the industry to super energize each fat cell so that a 'temporary' pore opening forms in each cell. The jell-like contents then spill out into the interstitial tissue to be carried to the lymph system to be used for energy before leaving the body! Basically, iit takes a fat cell from a "Grape" and makes it into a "raisin"!! Our Lipo-Light is the MOST effective, one of the safest machines out there giving consistently clinical superior results much faster!
Science Behind Lipo-Light
Research began back in 1998 with a hand held device. Dr. Rodrigo Nejra MD utilized 635nm wavelength as an adjunct to liposuction for pain to reduce post-operative discomfort. Dr. Neira observed changes in adipose tissue structure (where fat cells reside) He noticed it left it in a softer state, less fibrotic and easier to aspirate and over all better result.
What isn't it?
Lipo-Light is not a weight loss method or diet plan. It helps you reduce fat, inches, and cellulite in problem areas to help you get the body you want while maintaining your lean muscle mass. It's and excellent tool to use while on a weight loss program or healthy eating and exercise lifestyle. It is highly recommended for optimal results that while you are doing a course of treatments you work to detox your body. Your fat cells are full of toxins. You also need to practice healthy eating and drinking habits. THIS IS NO A MAGIC MACHINE!! It WILL NOT work that effective if you do not change the way you are eating. You can not continue to gobble up cheeseburgers, pizza, and cheesecake, alcohol, and sodas and expect our Lipo-Light to work miracles. It won't happen, but with proper nutritional guidelines you will get and maintain the results you want. If you do not follow these guidelines you are wasting your time and ours.
How many inches can I expect to lose? How many treatments will I need? How do I prepare for a session?
That depends on you. Most people lose ½ to 2 inches in one treatment. Over a course of treatments most people lose 3-9 inches and sometimes more in 3-4 weeks. Treatments needed are based on your BMI. Clients with a BMI under 25 will have subtle changes. Clients with a BMI of 25-29.0 should have btwn 9-12 sessions on their chosen area. Clients with a BMI of OVER 30 need 16 session sometimes more. This treatment is most effective on surface fat the soft fat not the Visceral hard/deep/old fat that lies below the muscles and around the organs. Patients who have had Liposuction prior to treatment will have varied results.
Drinking at least 64 ounces of water daily. Do not eat 2 hrs. before or after your treatment session. You want your body to use fat we just emptied into its system for energy first. If you eat your body will use the food you just ate for fuel as opposed to the fat we just emptied out.
Do's and Don'ts during treatment. What to do after treatment?
Supplements, hydration, lymphatic system mobilization…….
Immediately after your session you have to burn a minimum of 350 calories if not the fat could be re-absorbed by the cells. We will place you on the vibration plate and show you what to do. You can maximize your results and protect your liver, which is working harder, by eliminating fried fatty foods, carbs, as well as alcohol (your body must process alcohol before fat) from your eating plan. Eliminate sugar, sodas or high calorie sport drinks avoid caffeine and artificial sweeteners. If you do drink caffeine limit it to one cup per day and follow immediately with a glass of water. Avoid alcohol, beer, & wine if possible (small amt. before 8pm). It is also highly suggested you start a detox regimen. You can also further mobilize the lymphatic system by wearing spanx for 12 hrs, lymphatic massage or dry skin brushing and exercising. Your liver is working hard to clean the lymphatic system and you can help prevent it from being overtaxed by eating as cleanly as possible and avoiding high fat foods during the course of your treatment.
What areas can be treated?
Neck, back, breast, saddlebags, inner thighs, knees – virtually anywhere you have excess fat!!!
How long is a session?
Your treatment will last 20 minutes followed by 10 minutes on the vibration plate to burn off the fat we just released. Treatments may be done every other day or twice per week. There must be 24 hrs between visits.
Lipo-Light of Rock Hill (803) 328-2440